Low-E Glass
Low-E Glass336
Products Information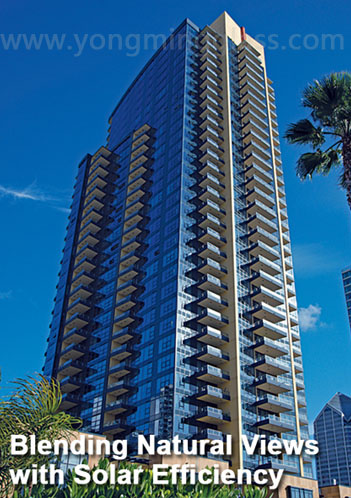 Glass is one of the most popular and versatile building materials used today, and it provides a dramatic aesthetic. But the beauty of glass is pointless if the people inside the building are uncomfortable or if energy inefficiency makes the building too expensive to operate.

Low-E coatings were developed to minimize the amount of ultraviolet and infrared light that can pass through glass without compromising the amount of visible light that is transmitted. A microscopically thin transparent coating allows Low-E glass to reflect exterior heat in warm temperatures and hold in heat during cold temperatures, making buildings light, bright and energy-efficient.

We offer two types of low-e coated glass: Single silver Low-E and Double silver Low-E.

Single Silver Low-E Glass
Within the coating structure of single silver Low-E glass, there is one silver layer. Single Silver Low-E glass has been widely used in various buildings at different locations worldwide.
Features
Ø Visible light transmittance— adequate indoor natural daylighting.
Ø Solar energy transmittance — a wide range of shading coefficient SC available, for different geological locations.
Ø High far infrared reflectance — low U-value, reduced thermal transfer due to temperature difference.

Double Silver Low-E Glass
Within the coating structure of double silver Low-E glass, there are two silver layers. While maintaining the same visible light transmittance, it has lower shading coefficient, SC, than single silver Low-E glass. In other words, it filters the sunshine as a cool lighting source to a larger extent and provides a solution to energy efficiency in design of high transparency architectures.
Features
Ø Higher visible light transmittance — ensuring better natural lighting
Ø Extremely low solar heat transmittance — effectively impeding solar heat radiation.
Prevention of thermal breakage :
When products with solar energy absorbance approaching to or above 70% are selected, it is recommended that the products be tempered or heat-strengthened to prevent breaking due to thermal stress.

Specifications
Dimensions of standard sheet: 2440x3660mm (96"x144"), 2540x4800mm (100"x189"), 2540x3300mm (100"x130"), 2440x3300mm (96"x130")
Maximum dimension: 2540x4800mm (100"x189")
Minimum dimension: 300x800mm (12"x31")
Thickness: 3 mm -19 mm (1/8"to 3/4")
The other thicknesses and sizes may be available upon request.
Code Compliance: GB/T18915.2 EN1096 ASTM C1376