Laminated Glass
Laminated Glass338
Products Information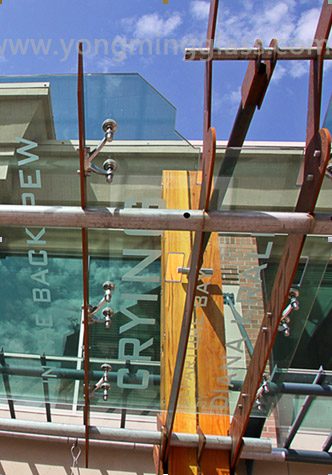 Add unsurpassed safety, security and performance to your glazing applications with our laminated glass. Choosing the safety, security and serenity of laminated glass no longer means limiting you in regards to glass type, color or size.
It is available in all glass types, including, clear, tinted, reflective, Low-E, spandrel and silkscreen printing. All the while offering unmatched quality, advanced features and oversized capabilities to match our heat treated, heat soaked and insulated glass offerings.
A wide variety of interlayer thickness, opacities and colors are available in:
n PVB Laminated Glass
n Polycarbonate Laminated Glass
n SentryGlas® Plus Laminated Glass
The most common laminated glass units are constructed with two pieces of glass permanently bonded together with one or more interlayers. The most important characteristics of laminated glass are fall-out protection due to the ability of the interlayer to support and hold the glass when broken as well as the reduced ability to penetration the opening. The ability to resist various kinds of penetration depends on a number of factors including thickness of the glass and the type of interlayer selected.
Laminated glass also offers a greater availability of coatings than monolithic glass. Low-E coatings which cannot be exposed, and therefore cannot be used with monolithic glass, can be used inside a laminated unit where they are protected.
Laminated glass units also have more aesthetic possibilities than monolithic glass. The interlayers used in laminated glass are available in a variety of colors and opacities. In addition, the Low-E coating and silk-screen pattern, if desired, are applied to the exterior ply of glass leaving the interior ply available for additional treatment. For a spandrel location, a full coverage opaque ceramic frit can be applied to the inner face (surface #4). For vision areas where daylight is desired but view through needs to be minimized, a translucent ceramic frit can be applied to surface #3.
Applications
n Acoustic
Reduces noise transmission due to the sound damping characteristics of the interlayer.
n Aesthetic
Offer a selection of color and opacity not achievable with other glass products such as coatings, glass substrates, silkscreen printing or spandrel glass. This is especially true with bright, vivid colors as well as opaque or translucent / frosted aesthetic requirements.
n Blast Mitigating
Provides a variety of options that help mitigate the effects of air-blast attacks. Important note: Laminated glass is considered a component of the overall glazing system, therefore; the blast mitigating performance is also dependent upon being installed into an adequately designed frame which is then anchored appropriately to the wall structure. We recommend the involvement of a blast consultant to verify the performance of the glass and framing system combination.
n Hurricane Resistant
Hurricane resistant laminates offered by us meet or exceed stringent building code requirements of coastal regions. The laminated glass is a component of the overall glazing system and every YMG hurricane resistant glass product has passed the impact and cyclic wind pressure test as part of a complete glazing system.
SPECIFICATIONS
Maximum dimension: 3300mmx 12000mm (130" x 472")
Thickness of PVB membrane: 0.38mm - 3.04mm (0.015" to 0.2")
Code Compliance: GB/T 11944
ASTM E2190
EN1279
JIS R3205
AS/NZS4666